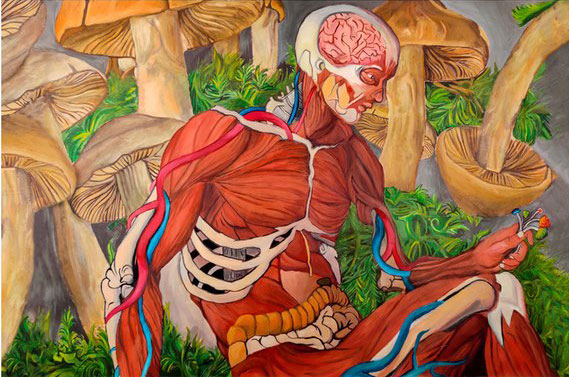 You'll learn a new way of seeing anatomical patterns through our unique approach to body reading and postural assessment, and you'll discover how yoga, movement, and fascial release might be best used to unwind those deeply ingrained patterns and invite structural and functional integration. The result: increased vitality, balance, grace, and ease.
Anatomy/Ayurvedic Walking Massage |
We will discuss the origins of the three sacred rivers/sisters and their ancient Vedic traditions combining to create a comprehensive and holistic approach to health, longevity, happiness and ultimately freedom (moksha). Ayurveda as "the science of Life" is a vast field of practices, principles, and philosophy to purify and strengthen the body and immune system while working on the subtle energy body and mind. We will discuss how yoga relates to the Ayurvedic Walking Massage with demonstration and practice while reviewing the main muscle groups, joints, skeletal system, lymphatic, circulatory and nervous system as well as the subtle body. The ancient systems employed walking massage by using the feet as instruments to help to move the lymphatic wastes and maintains elasticity of the muscle fibers. The focus on this lecture will revolve around the parasympathetic and sympathetic nervous system including the "fight or flight" (as well as freeze) response. Ayurveda emphasizes Purification, Digestion, Rejuvenation, Sensory management, Immunity-Ojas and Strengthening
We will apply physical observation to reading bodies, cueing poses, and teaching and practicing yoga.
Anatomy objectives:
Understand the basic arrangement of bones, muscles, joints, and fascia relative to six regions of the body.
Understand why fascia is important to the body, yoga, and how it works in stretching as well as, strengthening, injury, and recovery
Learn how to read bodies and assess postural patterns in many yoga poses
Develop strategies for addressing common postural patterns and other things noticed during body reading and postural assessment.
In this segment you will get: 
A complete breakdown of the key bones, bony landmarks, muscles, ligaments, and tendons of a part of the body, along with their function and a way to identify them on your own body.
Tips for reading bodies and strategies for how to address common patterns.
One book we will be using the Yoga Anatomy Coloring book, to make this easy and fun.
Additionally, we will be using the book, Yoga Anatomy by Leslie Kaminoff and Anatomy of Movement by Blandine Calais-Germaine.