There is so much debate out in the world about Neo-Tantra, along with Sacred Sexuality,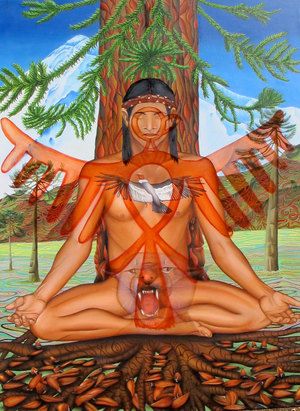 where many claim that such teachings are not about "Tantra". Many Classical Lineage-based Tantra Teachers frown upon Neo-Tantra and are quick to criticize.
I would like to offer a more inclusive and non-shaming perspective about Neo-Tantra, that instead of polarizing, outcasting  or trying to lop off this entire new branch on the Tree, we instead choose to view Neo-Tantra as a Bridge to the deeper understandings and the bigger journey of Tantra.
Consider this, many in the western world start off on a yoga mat in a yoga class as merely another form of exercise. Yet, the more they show up on the mat for these practices, the more the actual yoga is working through them and opening their bodies/minds/hearts and they often are fueled to go deeper and learn more about yoga and meditation, to include all that it means and entails.
Similarly, the quest to awaken and heal in these physical bodies, unifying sexuality and spirituality to blossom into our full fragrant wholeness is what brings most people into Neo-Tantra and Sacred Sexuality pursuits. As one continues down this path of learning and awakening, a desire fire gets lit to discover/uncover more of what "Tantra" truly is, which in turn leads them to seek out more advanced teachers who have both the scholarly studies combined with the devotional practices from one or more lineages. Thus, Neo-Tantra can be a bridge to Tantra, as one climbs from the outer branch down the Tree of Yoga, to the many treasures of understanding. Tantra is on the Tree of Yoga, Neo-Tantra is on the Tree of Yoga. Your journey  of discovery, embodiment, remembrance, awakening and liberation are all found in this Tree.
From the roots of Stone-age Shamanism, up through the ages and stages, to now. At Holy Love Institute of Tantra Yoga, we receive you where you are in your sacred journey, and bring you home to the truth of yourself.
"Shamana Ma leads us in engaging with the immediate urgency of being alive. Her Tigress gait leads us thru the jungles of sensual abundance, by a masterful prowess to hunt for love in all of its glitter and fur, to jump and bite thru into the tender fire source of juice and joy. Again & again, leading thru the ancient gateways of the eternal lesson: to hunt and ravish our hearts desire until we have finally found our greatest belonging - ourselves, lying naked and delicately alive on the fertile ground of truth."